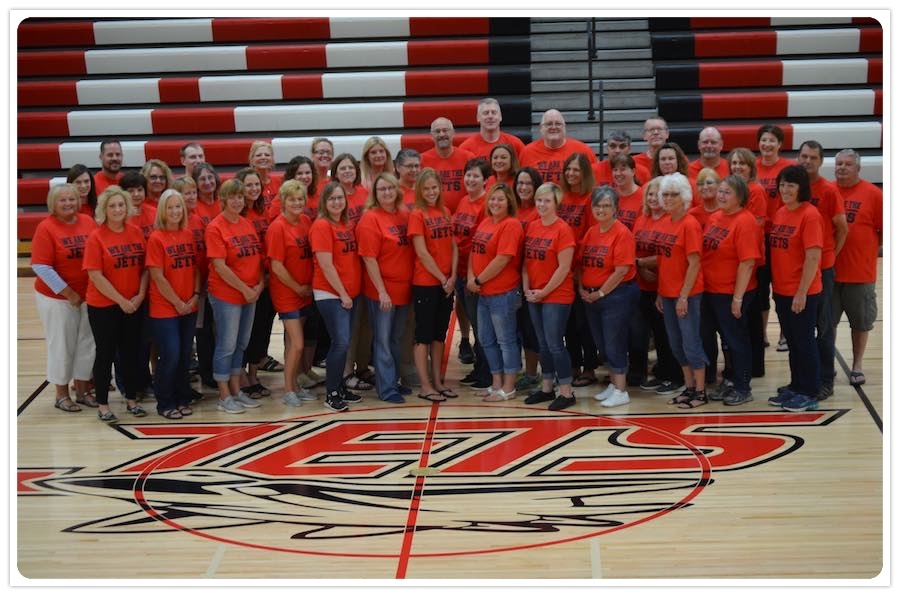 North Central Jr/Sr High
North Central Area Jr./Sr. High School is located in Powers, Michigan and serves the Northern Menominee County communities of Powers, Spalding and Hermansville. We are proud of the historic commitment the community has provided our school. Today, 194 students grade 6-12 attend school in our facility. We offer a complete Michigan Merit Curriculum as well as additional educational opportunities thru partnerships with Bay College. We offer a semster, six period per day schedule.
Extra curricular opportunities are available to all students. Interscholastic sports, drama, art, service clubs, quiz bowl and vocational clubs are actively pursued by our students. Students are encouraged to participate and take active roles in our school. The school participates in the Great Lakes 8 (Football) and Skyline Central athletic conferences.
We encourage students and adults interested in NCA MS/HS to visit our facility and talk with our staff about the great opportunities available!
Office Hours:
Monday - Friday 7:30AM to 3:30 PM
Address
P.O. Box 601
W3795 US 2 & 41
Powers, MI 49874
Phone: (906)497-5226
Fax: (906) 497-0900
Calendar

Previous

September

2023

Next

S
M
T
W
T
F
S
1

Sep 1

Calendar:

District Calendar

2
3
4

Sep 4

Calendar:

District Calendar

5

Sep 5

5:00 PM to 7:00 PM

V Girls VB Forest Park School Home

Calendar:

North Central Athletic Calendar

Visit https://ncajetsathletics.org/main/event/scid/MI498749507/eventid/75380312 for more information!

6

Sep 6

5:00 PM to 7:00 PM

V Coed XC Manistique Away

Calendar:

North Central Athletic Calendar

7

Sep 7

5:30 PM to 7:30 PM

JH Girls BKB Norway High School Home

Calendar:

North Central Athletic Calendar

Visit https://ncajetsathletics.org/main/event/scid/MI498749507/eventid/76782077 for more information!

5:30 PM to 7:30 PM

JV Boys FB Munising Middle/High School Away

Calendar:

North Central Athletic Calendar

8

Sep 8

6:00 PM to 8:00 PM

V Boys FB A.D. Johnston Jr/Sr HS (Bessemer) Away

Calendar:

North Central Athletic Calendar

9

Sep 9

9:00 AM to 11:00 AM

V Coed XC Superior Central School (Superior Central Invite) Away

Calendar:

North Central Athletic Calendar

10
11

Sep 11

5:00 PM to 7:00 PM

JH Girls BKB Holy Name School Home

Calendar:

North Central Athletic Calendar

Visit https://ncajetsathletics.org/main/event/scid/MI498749507/eventid/76782078 for more information!

12

Sep 12

2:00 PM to 4:00 PM

V Coed XC Kingsford High School Away

Calendar:

North Central Athletic Calendar

5:00 PM to 7:00 PM

V Girls VB Superior Central School Away

Calendar:

North Central Athletic Calendar

Visit https://ncajetsathletics.org/main/event/scid/MI498749507/eventid/75380352 for more information!

13

Sep 13

5:30 PM to 7:30 PM

JH Girls BKB Stephenson High School Home

Calendar:

North Central Athletic Calendar

Visit https://ncajetsathletics.org/main/event/scid/MI498749507/eventid/76782082 for more information!

6:00 PM to 8:00 PM

JV Boys FB Munising Middle/High School Home

Calendar:

North Central Athletic Calendar

14

Sep 14

5:00 PM to 7:00 PM

V Girls VB North Dickinson School Away

Calendar:

North Central Athletic Calendar

Visit https://ncajetsathletics.org/main/event/scid/MI498749507/eventid/75380314 for more information!

5:30 PM to 7:30 PM

JH Girls BKB Carney-Nadeau School Home

Calendar:

North Central Athletic Calendar

Visit https://ncajetsathletics.org/main/event/scid/MI498749507/eventid/76782086 for more information!

15

Sep 15

6:00 PM to 8:00 PM

V Boys FB Ontonagon Area High School Home

Calendar:

North Central Athletic Calendar

16
17
18

Sep 18

5:00 PM to 7:00 PM

JH Girls BKB Bark River-Harris Junior/Senior High School Away

Calendar:

North Central Athletic Calendar

Visit https://ncajetsathletics.org/main/event/scid/MI498749507/eventid/76782084 for more information!

19

Sep 19

Calendar:

District Calendar

5:00 PM to 7:00 PM

V Girls VB Mid Peninsula High School Home

Calendar:

North Central Athletic Calendar

20

Sep 20

3:00 PM to 5:00 PM

V Coed XC Stephenson High School Away

Calendar:

North Central Athletic Calendar

21

Sep 21

5:00 PM to 7:00 PM

V Girls VB Rapid River Public Schools Home

Calendar:

North Central Athletic Calendar

Visit https://ncajetsathletics.org/main/event/scid/MI498749507/eventid/75380313 for more information!

22

Sep 22

6:00 PM to 8:00 PM

V Boys FB Lake Linden-Hubbell High School Home

Calendar:

North Central Athletic Calendar

23

Sep 23

9:00 AM to 11:00 AM

V Coed XC Rapid River Public Schools Away

Calendar:

North Central Athletic Calendar

24
25

Sep 25

5:00 PM to 7:00 PM

JH Girls BKB Stephenson High School Away

Calendar:

North Central Athletic Calendar

Visit https://ncajetsathletics.org/main/event/scid/MI498749507/eventid/76782081 for more information!

5:00 PM to 7:00 PM

JV Boys FB A.D. Johnston Jr/Sr HS Home

Calendar:

North Central Athletic Calendar

5:00 PM to 7:00 PM

V Girls VB Munising Middle/High School Home

Calendar:

North Central Athletic Calendar

Visit https://ncajetsathletics.org/main/event/scid/MI498749507/eventid/75380317 for more information!

26

Sep 26

3:00 PM to 5:00 PM

V Coed XC Munising Middle/High School Away

Calendar:

North Central Athletic Calendar

5:00 PM to 7:00 PM

JH Girls BKB Holy Name School Away

Calendar:

North Central Athletic Calendar

Visit https://ncajetsathletics.org/main/event/scid/MI498749507/eventid/76782083 for more information!

27

Sep 27

12:00 PM

Calendar:

District Calendar

28

Sep 28

5:00 PM to 7:00 PM

V Girls VB Stephenson High School Home

Calendar:

North Central Athletic Calendar

Visit https://ncajetsathletics.org/main/event/scid/MI498749507/eventid/75380349 for more information!

29

Sep 29

6:00 PM to 8:00 PM

V Boys FB Stephenson High School Home

Calendar:

North Central Athletic Calendar

30